Ultimate Woodshop on Wheels: Mike Doerner
From "Special Presentation" episode DMUW-S

| | |
| --- | --- |
| | Mike Doerner can convert his garage into a full-fledged woodworking shop in a matter of minutes. |
Mike Doerner's Woodshop on Wheels
Dallas, Georgia

Mike Doerner's grandfather introduced him to saws and hammers and wood when Mike was seven years old. Mike has loved woodworking ever since.

Mike worked in various cabinet shops throughout high school and college, never dreaming he'd ever have his own shop. Then, several years ago, looking for a house, he latched onto the dream of having his own garage workshop. His wife Amanda agreed, as long as she would always be able to park her car in the garage. To this day, Amanda can still park her car in Mike's 21' by 21' two-car garage workshop.
| | |
| --- | --- |
| | |
Mike's workshop started out much like everyone's basic garage. He recalls that when they moved in, there was only one outlet as he began to turn what was a two-car garage into his workshop. The workshop's early days were modest, but it didn't take long for Mike to envision and begin building his wall of tools.

Today, that wall is one of the most impressive sections of Mike's workshop. But, even the wall of tools has undergone several transformations. Until recently, the tools were mounted to pegboard; but Mike discovered that some of the planes were rusting in patterns that matched the pegboard holes. Never one to do things halfway, Mike replaced the entire pegboard surface of the wall with 1/4" poplar plywood, and then put in insulation and a vapor barrier behind the wall.

In addition to parking her car in part of the workshop, Amanda gets the benefit of handmade furniture to her order throughout the house. In return, Amanda provides the calligraphy for labels that go on Mike's pieces and offers a critical eye for matching stains on certain pieces.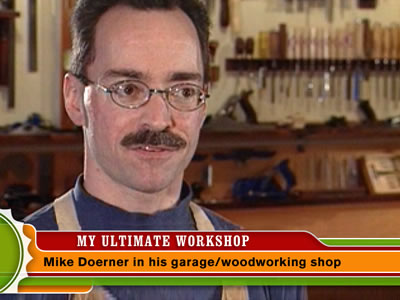 Start slide show >>